Pest problems are widespread and affect not just homes and businesses but also vehicle owners. Vehicle owners who have a pest problem on their hands may find it hard to curb it for many reasons. While calling on a pest control company for one's car pest control need may sound ridiculous, choosing the right pest control product on the market can also be challenging. Addressing vehicle pest problems requires the right approach and the right pest control solution.
X-Pest is one of the leading manufacturers of consumer-oriented products. The company takes pride in delivering products designed to address the specific needs of consumers in the market. One of the products offered by the company is the Under Hood Animal Repeller. The Under Hood Animal Repellent product is one of the multiple existing lines of the products provided by the company.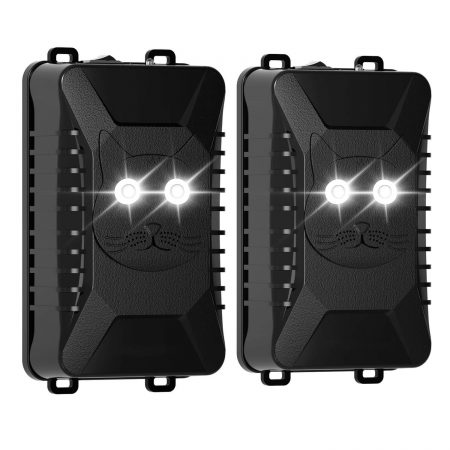 X-Pest's battery operated Under Hood Animal Repellent has been designed to address the needs of car owners who are battling pest problems in their vehicles. Vehicle owners who spend more than needed on vehicle repairs and cleaning due to pest problems can now rely on the Under Hood Animal Repellent product. To ensure that the product meets and exceeds consumers' expectations, X-Pest has designed the animal repellent product to come on or off automatically in response to the vehicle's actions. This means that the animal repellent comes on when the car stops and goes off when the car starts. This automatic action makes it a lot easier for consumers to keep their vehicles protected without worries.
The battery-operated Under Hood Animal Repellent works by emitting ultrasound and blinding lights that disturb the auditory, visual, and nervous systems of the rodents thus making the vehicle an uncomfortable place to be in. In addition, the ultrasonic waves produced by the pest repellent changes quickly and slowly over time to keep all kinds of rodents away from the user's vehicle. For effectiveness across all kinds of rodents, X-Pest has designed the product to emit ultrasound as high as 18kHz – 36kHz in frequency. Users will find that the pest control product also comes with a built-in fuse that protects the unit from high currents, which can be destructive.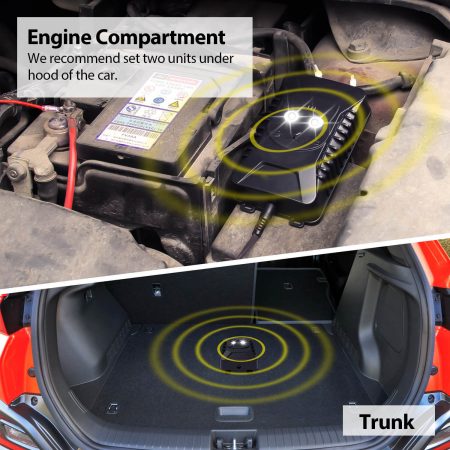 Putting safety first, X-Pest has also made sure that each of the battery-operated Under Hood Animal Repellent consumes about 0.1W of power while releasing sounds and white lights. This offers a wide range of energy-saving advantages. With the X-Pest's latest products, users are guaranteed continued safety for their vehicles.
Having become an Amazon bestseller across the USA and Europe, X-Pest continues to work hard to ensure that consumers have access to premium pest control products for the indoor and outdoor space. Consumers who choose the Under Hood Animal Repellent product will have access to a wide range of advantages. These advantages include after-sale services where the consumer can expect ongoing support from the manufacturer on the products and purchases. X-Pest also offers high-quality products that have passed through the quality check department ahead of shipping. With its strict quality check process, customers can rest easy knowing that they are only getting the best quality products. In addition, X-Pest offers a personal guarantee on all of the products offered on the market. Customers who have purchased defective products can contact the manager for help.
Customers who are yet to make up their minds will have access to pre-sales inquiries and personalized service, especially as they learn more about each product and which is right for their needs. X-Pest's full range of products for outdoor pest solutions includes sonic snake repeller, ultrasonic animal repeller, solar bug zapper, solar wasp trap, and sonic mole repeller. The company also offers a range of products for indoor pest control use, including Ultrasonic pest repeller, rodent trap, and bug zapper.
Steven Liu of X-Pest said: "We are China's leading manufacturer of pest control products for export worldwide. X-Pest makes humane mouse traps, outdoor animal repellers, bug zappers, and ultrasonic pest repellers for domestic use. We supply eCommerce stores, retail brands, and amazon sellers with the best animal and insect control solutions for consumers in the USA, Europe, and the UK. Our best-selling evergreen niche products are perfect for every consumer and safe for children and pets. We are proud to help our customers across the Globe build profitable B2C pest control brands by white labeling our products."
X-Pest can be reached via phone at +86 755 29185819 or visit them at 4th Floor Building B, Star Acer Technology Park, South Side of Baotian No.1 Road, Xi Xiang Street, Bao'An District, Shenzhen Guangdong 518102 CN. For more information, visit their website.
Media Contact

Company Name
X-Pest
Contact Name
Steven Liu
Phone
+86 755 29185819
Address
4th Floor Building B, Star Acer Technology Park, South Side of Baotian No.1 Road, Xi Xiang Street, Bao'An District
City
Shenzhen
State
Guangdong
Country
China
Website
http://www.x-pest.com/