Canton, OH – Ridgeside K9 Ohio Dog Training offers an evaluation-based dog training program that looks at each dog and its owner. They specifically examine the issues at play, goals, and wants before creating fully-customized training packages that co-opt classical and operant conditioning, marker training, and free shaping. Featured programs include Board and Train, Puppy Training, Day Training, Private Training, and Doggie Daycare. The Canton Dog Training facility has successfully trained over 3000 dogs and received more than 100 5-Star reviews from satisfied clients.
Ridgeside K9 Ohio Dog Training is a police-owned and operated dog training facility recognized nationally. Established in 2020, the center is housed in a new 6,000 sq ft facility in Ohio. Business owner Eric Stanbro is a 27 year veteran of law enforcement. During his stint as police, he served in the SWAT, K9, patrol, and narcotics teams. Eric and his dog training team have over 10 years of combined experience.
Ridgeside K9 Ohio Dog Training is reaping the fruits of being a high-achieving group, obedience, puppy, and private dog training facility. Their world-famous Board and Train program is custom-designed based on the dog breed, goals, and the issues at hand. It is 100% transparent and covers critical aspects such as adult dog training and aggression control rehabilitation. Their customers are enthused about the responsive trainers, transformative results, and customer service.
At Ridgeside K9 Ohio Dog Training, dog owners are accustomed to expecting nothing short of 100% obedient dogs with life-lasting results. The skilled and professional handlers are always ready to use their extensive dog training experience to offer top-notch training. One critical aspect of Ridgeside K9 Ohio Dog Training – Canton Dog Training Classes is the push to achieve clarity of tasks. For the dog, the training brings a new way of "being" and a new way to communicate for the dog owner.
Their day dog training program covers basic commands such as come, recall, sit, and down. Homeowners can drop their dogs in the morning and pick them in the evening for two weeks. For puppy owners, Ridgeside K9 Ohio Dog Training teaches foundational obedience, crate training, socialization, and much more. The obedience segment of training teaches essential dog commands such as come, place, sit and leash manners. This training is open for puppies under 5 months.
Ridgeside K9 Ohio Dog Training facility is centrally located at 3110 Whipple Avenue NW Suite 5, Canton, Ohio, 44718, US. To speak to a dog training expert near me, call (330) 904-7930. A free consultation is in the offing for all owners interested in professional dog training that promises results. The trusted dog training facility serves the whole of Ohio and western Pennsylvania.
Media Contact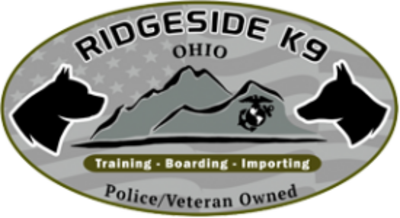 Company Name
Ridgeside K9 Ohio Dog Training
Contact Name
Eric Stanbro
Phone
(330) 904-7930
Address
3110 Whipple Ave NW Suite 5
City
Canton
State
Ohio
Country
United States
Website
https://www.ridgesidek9ohio.com/