Williamsburg, VA: Ridgeside K9 Tidewater Dog Training offers private training services to clients that have dogs that are easily distracted by animals and people, resistant to commands, excitable, and those that can learn games and tricks. To achieve the results, the Ridgeside K9 Tidewater Dog Training trainers focus on key areas such as communication, where the client learns how to create an unspoken bond and unshakable trust with their dog. 
The training also focuses on reinforcing good behavior by eliminating bad manners such as annoying barking, and instead, the staff teaches basic obedience like leash walking. Since the sessions are private and in an environment familiar to the dog, the trainers personalize the training to match the pet's progress. For instance, if the canine has a better connection with the client in terms of faster understanding of the commands, the trainer can focus on other key areas such as reinforcing good behaviors such as sitting and staying. 
Ridgeside K9 Tidewater Dog Training also offers dog boarding services to clients who want to travel and are not ready to hire a full-time dog walker or a dog sitter. The program is also available to dogs with issues such as depression, separation anxiety, and other acting out behaviors. To make the stay manageable for the pet, the facility offers special diets to dogs who need particular food. It also provides medication, especially to older canines with medical conditions such as insulin. 
Besides taking care of the basics such as food and medication, the facility has special toys for the pet to make it happy during the stay, but if the client wants to bring a blanket or a toy, they are free to take it to the facility. The staff also provides special care for anxious dogs by pampering and ensuring the extremely nervous pet feels at home. To learn more about Ridgeside K9 Tidewater boarding program, the client can visit the facility or talk to the staff. 
Ridgeside K9 Tidewater Dog Training also has special programs for dogs based on their age and special behaviors. One of the special programs is puppy training, available to clients with puppies. The staff teaches the young pet some basics such as socialization, leash walking, excitability, basic commands, and urination habits. For the older dogs with aggressive behaviors, the facility has a special program that familiarizes the client with effective techniques for combating the aggression problem. In each case, the staff handles each pet differently for better results and to make them better companions. 
Clients interested in dog training services can contact the team at 757-514-3242. Ridgeside K9 Tidewater Dog Training is located at 1596 Penniman Rd Unit C, Williamsburg, VA, 23185, US. Visit the website for more information.
Media Contact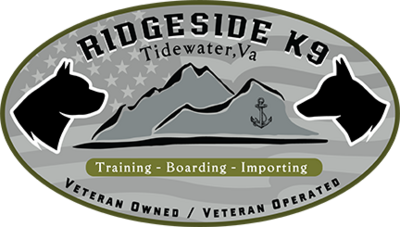 Company Name
Ridgeside K9 Tidewater Dog Training
Contact Name
Matthew G Powell
Phone
757-514-3242
Address
1596 Penniman Rd Unit C
City
Williamsburg
State
VA
Postal Code
23185
Country
United States
Website
https://www.ridgesidek9tidewater.com/