Austin, TX – The global food delivery industry is set to surpass the $160 billion mark by 2024, but despite that enormity, there is still a lack of focus on keto-friendly, meal delivery that is affordable and clean. Proper Good has set out to embrace a market overflowing with dietary preferences and is dedicated to offering ready-made healthy meals for keto, plant-based, and gluten-free lifestyle needs.
Brother and sister team, Christopher and Jennifer Jane, are no strangers to the world of food enterprise. They have previously launched a natural food brand and this time around they have honed their focus on the world of 90-second meals. Christopher, a Stanford MBA graduate, is the dynamic duo's numbers guy. The creative mastermind is Jennifer, and together they are taking ready-made meals into the premium arena where they have never gone before.
Proper Good has taken a whole new approach to the prepared meals industry by cutting out preservatives, chemicals, and added sugars. Designed for health-conscious people with busy lifestyles, customers are provided with nutritious meals that include functional ingredients catering to a variety of dietary preferences. Grass-fed bone broth, turmeric, collagen, and faro are some of the ingredients included that pack a punch in the flavor department but are also loaded with nutrients that are lacking in most ready-made meals. Plus zero added sugar and no chemicals or preservatives gives an ultra clean ingredient list. All Proper Good meals are shelf-stable so no fridge needed, meaning you can take to work, travel, camping, or use whenever and wherever you need a 90-second nutritious full meal.
In their first year, the company has surpassed the $1,000,000 sales mark with more than 150,000 meals sold. With 1,000s of 5-star reviews to prove it, Proper Good has saved countless hours in the kitchen for thousands of people by providing convenient, nutritious, and delicious meals. Each BPA-free package holds a generous serving that is ready to eat in only 90-seconds.
Keto meals are notoriously pricey as it has become one of the leading dietary preferences in the world today. Proper Good caters to all lifestyle choices and whether consumers choose to eat keto, plant-based, dairy-free, or gluten-free, they can find plenty of delicious options between $6.99 and $7.99 per meal. With free delivery and up to 20% via subscription, they're incredibly affordable meal options for at home, work, or on-the-go.
Major players in the food sector have taken notice of this thriving new company that is re-inventing the prepared meals industry. Proper Good investors include the founders of well known national food brands, XRC labs, Dorm Room Fund, GAingels, numerous Stanford Professors, and a number of smaller funds have come on board to provide financing for growth. Proper Good is now on target to scale their direct-to-consumer distribution and soon dominate the retail space.
Proper Good meals are shelf-stable, nourishing, and above all, highly convenient. Their meals are nostalgic and able to intoxicate all your senses with robust flavors, vibrant colors, and intense aromas. Christopher and Jennifer plan to introduce several new and tasty ready-made meal options to the market in the coming months.
Contact ProperGood, Inc
ProperGood, Inc is located in Austin, US. For inquiries, contact the company via phone at 855 554 7444 or visit its website to get Proper Good meals delivered!
Media Contact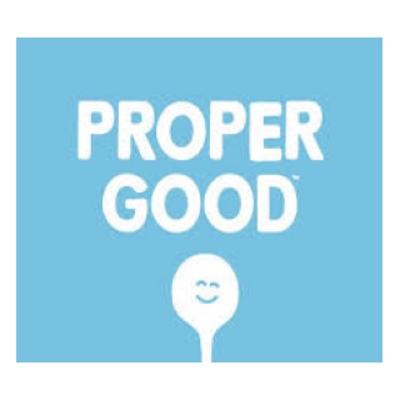 Company Name
ProperGood, Inc
Contact Name
Christopher Jane
Phone
855 554 7444
City
Austin
State
TX
Country
United States
Website
https://www.eatpropergood.com/