Poipu, HI – Poipu Mobile MD Clinic was started in 2015 as a mobile urgent care service clinic by Dr. J. Wayne Burris. Even though it's a Poipu-based clinic, it serves the island of Kauai, offering a wide range of services including, mobile medical services and walk-in urgent care 7days a week.  
Dr. J. Wayne Burris is the medical director and a board-certified emergency medicine physician who has been providing care in emergency rooms since 2004. He started the practice to shelter people from the stress/expense of the ER and to help people with their basic urgent care needs. Dr. Burris leads a team of physicians and staff who value transparency, hospitality, and convenience. 
Since the clinic's inception, they have built a reputation for providing stellar medical care and treating each client like family. As an emergency physician, Dr. Burris discovered that patients with minor injuries or illnesses could have been cared for outside the ER. For this reason, he and his team treat patients in the comfort of their homes, vacation rentals, or hotels.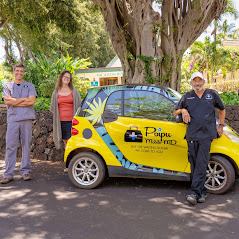 All visits offered by Poipu Mobile MD Clinic include personalized physician care, transparent pricing, and convenience. Their mobile and clinic medical services treat common health concerns including, bites/stings, cold/flu, asthma, pediatric concerns, earaches, skin rashes/infections, fevers, sinus infections, urinary tract infections, sore throat/cough, stomach ailments, dehydration (IV fluids), food poisoning/vomiting/nausea, and lacerations. 
Patients suffering from common illnesses, eye infections, sprains/strains, moderate back problems, island injuries, constipation/diarrhea, and other minor illnesses/injuries can find relief from the Mobile healthcare clinic. Part of their medical services includes rapid antigen and PCR tests for COVID-19. They also offer antibody testing to help patients determine whether they were infected with the COVID-19 virus. 
Employers, visiting corporations, and events that need medical services can also rely on the Poipu Medical MD Clinic for group COVID-19 testing, event medical services, on-site medical personnel, and pre-employment physical exams.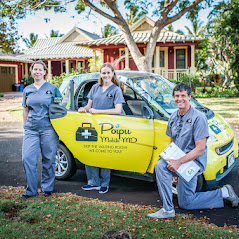 Besides mobile care, Poipu Mobile MD Clinic provides walk-in medical clinic services for chronic conditions, allergic reactions, orthopedic injuries, and eye infections. They also offer physical exams for school physicals, the Department of Transportation, scuba medical evaluations, USCIS immigration exams, and children's sports physicals. 
With the knowledge that medical needs differ for each patient, Dr. Burris and his team provide patient-centered services. They conduct extensive phone/in-person consultations to determine a patient's medical history, the extent of their injuries, and other medical issues to determine a personalized solution based on a patient's needs. This approach has earned the Poipu medical center many 5-star reviews, positive testimonials, and a list of satisfied patients. 
Call +1 (808) 652-7021 to get convenient medical services to book an appointment. Poipu Mobile MD Clinic is located at 1941 Poipu Rd, Koloa, Hawaii, 96756, US. Call +1 (808) 652-7021 to learn more about our convenient medical services. Book an online appointment for same-day services. 
Media Contact

Company Name
Poipu Mobile MD Clinic
Contact Name
Joseph W. Burris, JR.
Phone
+1 (808) 652-7021
Address
1941 Poipu Rd
City
Koloa
State
Hawaii
Postal Code
96756
Country
United States
Website
https://poipumd.com/