Waterloo, IL – Full-service digital marketing agency, New Adventure Web Design & Digital Marketing, has announced its free video audit available to small business owners in the St. Louis Metro Area and Southern Illinois region. The free video audits will inform & educate business owners to the minor and major problems affecting their business' visibility on Google Maps. The review will also go over other important areas like Google Organic visibility, business data/citations, website user experience, website content, website load time, local competitor discovery, and social media presence to see how they are performing and make recommendations for improvement.
Business owners who wish to accelerate their business growth and reach a higher revenue can leverage this opportunity. The spokesperson for the internet marketing agency said: "In these video audits, we highlight areas of strength, areas of weakness, and provide a customized strategy for how we can help the business improve their online presence if they hire us. We provide these video audits free of charge with no purchase necessary, and no strings attached."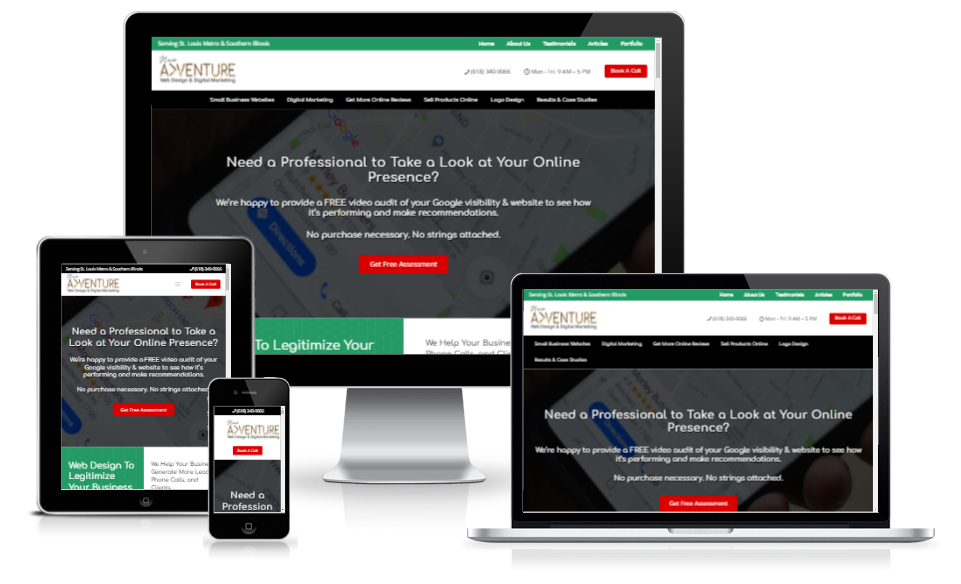 New Adventure Web Design & Digital Marketing, at the free video audit announcement, noted that this is their way of giving back to the community. Business owners who are struggling with establishing an online brand can leverage the free audit to identify areas that are holding them back and how the problems can be fixed. Those who wish to work with the experts at the end of the free audit stand a chance of enjoying the array of internet marketing solutions that they offer.
The New Adventure Web Design & Digital Marketing team has experienced and professional Website Designers ready to work with owners of businesses of all sizes. The website designers ensure that clients who do not already have an online presence get the perfect website that complies with search engine standards and also appeals to their target audience. The design team ensures that clients are carried along at each step of the design and build process to ensure overall satisfaction.
Other than their website design solution, New Adventure Web Design & Digital Marketing also helps businesses to generate leads, phone calls, and clients through solutions like Google Business Profile Optimization, Locally-focused content creation & Syndication, online reputation management, review generation, and more.
Business owners who wish to connect with more customers online can contact the team at New Adventure Web Design & Digital Marketing to get started or visit the company's website for their free video audit solution. The internet marketing company is located at 6331 Edge Water Dr. Waterloo, IL 62298 US and can be reached via phone at (618) 340-9066.
Media Contact

Company Name
New Adventure Web Design & Digital Marketing
Contact Name
Laura Griffith
Phone
(618) 340-9066
Address
6331 Edge Water Dr
City
Waterloo
State
IL
Postal Code
62298
Country
United States
Website
https://newadventureweb.com/