Calgary, Alberta – Parents with young children aged 1-5 years old near Tuscany, Calgary now have a new affordable choice for dayhome & preschool care for early childhood learning at Little Champs Montessori Childcare Inc. This newly established dayhome and preschool offer parents a great alternative with a home-like learning environment for their young children. The new dayhome care is run by Mrs. Nidhi Sanghi, a certified Montessori early childhood educator (3-6 years). This preschool & dayhome center seeks to provide an enjoyable and effective early childhood learning experience, where children can acquire new knowledge and practical life skills while having fun. 
Little Champs Montessori Childcare Inc. provides a wide range of learning programs and activities, including Montessori material & games, daily outdoor play, weekly activities plan, daily meal plans, and more. Likewise, parents have access to the appropriate educational resources to plan and implement an early childhood education program for their little ones at home while reinforcing the knowledge acquired at Little Champs Montessori.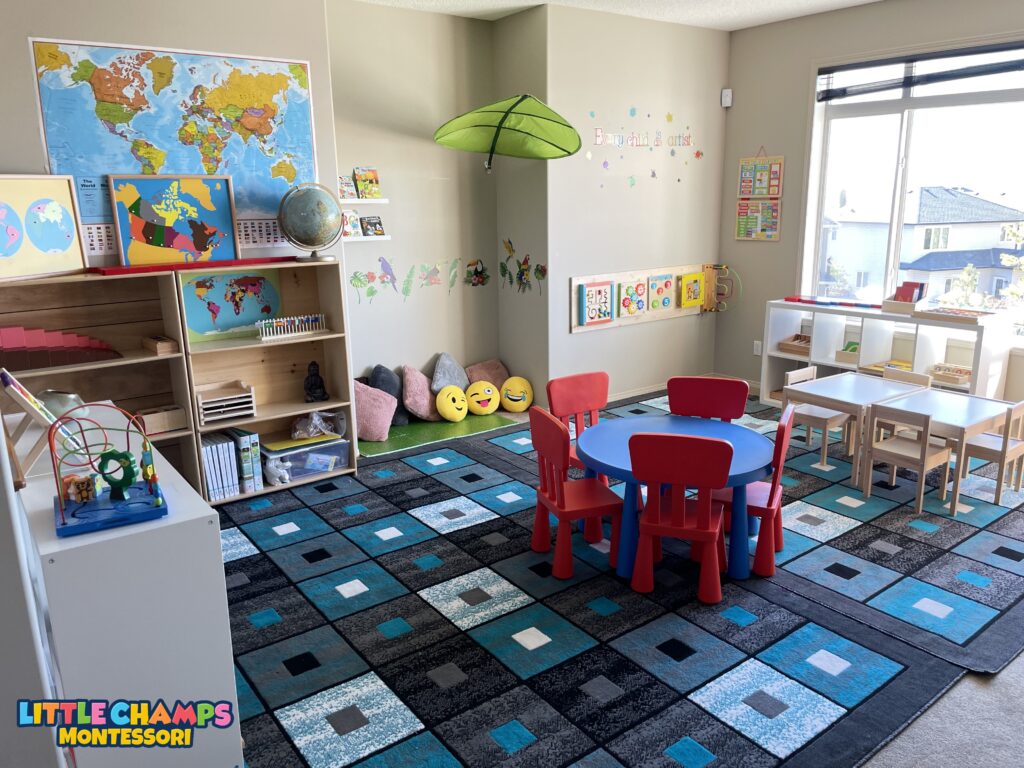 "Little Champs Montessori Childcare & Dayhome offers an affordable & nurturing Montessori dayhome environment for your young kids. We want to provide the best care for your child, so they can thrive in early childhood learning and develop social skills necessary for their development. Each child is encouraged to explore his or her individuality within a supportive community where parents are welcome partners in education and childcare," said the representative at Little Champs Montessori Childcare Inc. regarding their educational model. 
This Montessori Dayhome near Tuscany Calgary is designed with a modern and contemporary look that features the entire home space (main level and walk-out basement) with large windows, natural light, and fresh air. The dayhome & preschool gives every child the opportunity to blossom in a homely environment that promotes growth, reflection, and learning.
Children's safety is a top priority at Little Champs Montessori Childcare Inc. Therefore, all areas have been adapted to be safe for children in a home learning environment, and entry access points have been secured with safety gates and locks. Also, all electrical & power points and important areas are fully protected for the children. In addition, the center director is trained in First aid and CPR, and has undergone the necessary background checks and has clean police verification to ensure the safety of the children. Likewise, daily reports and photographs are sent to all parents for their peace of mind and continuous monitoring.
Little Champs Montessori Childcare Inc. offers customized dayhome care programs that fit all parents' needs, ranging from one to five days a week services. Parents are encouraged to provide written expectations to make adjustments to meal plans. A limited child-to-child staffing ratio of 1 to 6 children, allows caregivers to focus on each child's needs easily. 
Parents looking to learn more about this Daycare near Tuscany Calgary may request an appointment for a tour via phone at +1 4033137886. The dayhome & preschool is available from 7:00 AM to 05:30 PM, Monday – Friday. The dayhome is located at 82 Rockbluff Close NW, Calgary, Alberta, T3G 5B2, Canada. For more information or to enroll in a tour, visit the company's website. 
Media Contact

Company Name
Little Champs Montessori Childcare Inc.
Contact Name
Nidhi Sanghi
Phone
+1 4033137886
Address
82 Rockbluff Close NW
City
Calgary
State
Alberta T3G 5B2
Country
Canada
Website
https://www.littlechampsmontessori.com/