KidGlov, a boutique marketing and advertising agency based out of Lincoln and Omaha, Neb., recently welcomed Angie Muhleisen, president and CEO of Union Bank & Trust, to their podcast, Agency for Change. The episode explores the legacy of leadership and the impact of the family-owned bank on communities across Nebraska. 
"Humble, generous, passionate and committed, Angie is a leadership legend at Union Bank & Trust and truly an inspiring guest for our Agency for Change podcast," said Lyn Wineman, president and chief strategist at KidGlov. 
Union Bank & Trust was founded in 1917 as then Farmer's State Bank. In 1965, Muhleisen's family purchased the bank which has now grown to a thousand employees serving communities across Nebraska and Kansas City. Family-owned and focused on service, the bank has strong roots in the communities they serve.  
The Agency for Change episode explores leadership authenticity, work-life balance, retirement and more with Mulheisen, who attributes the success of Union Bank to a strong internal culture.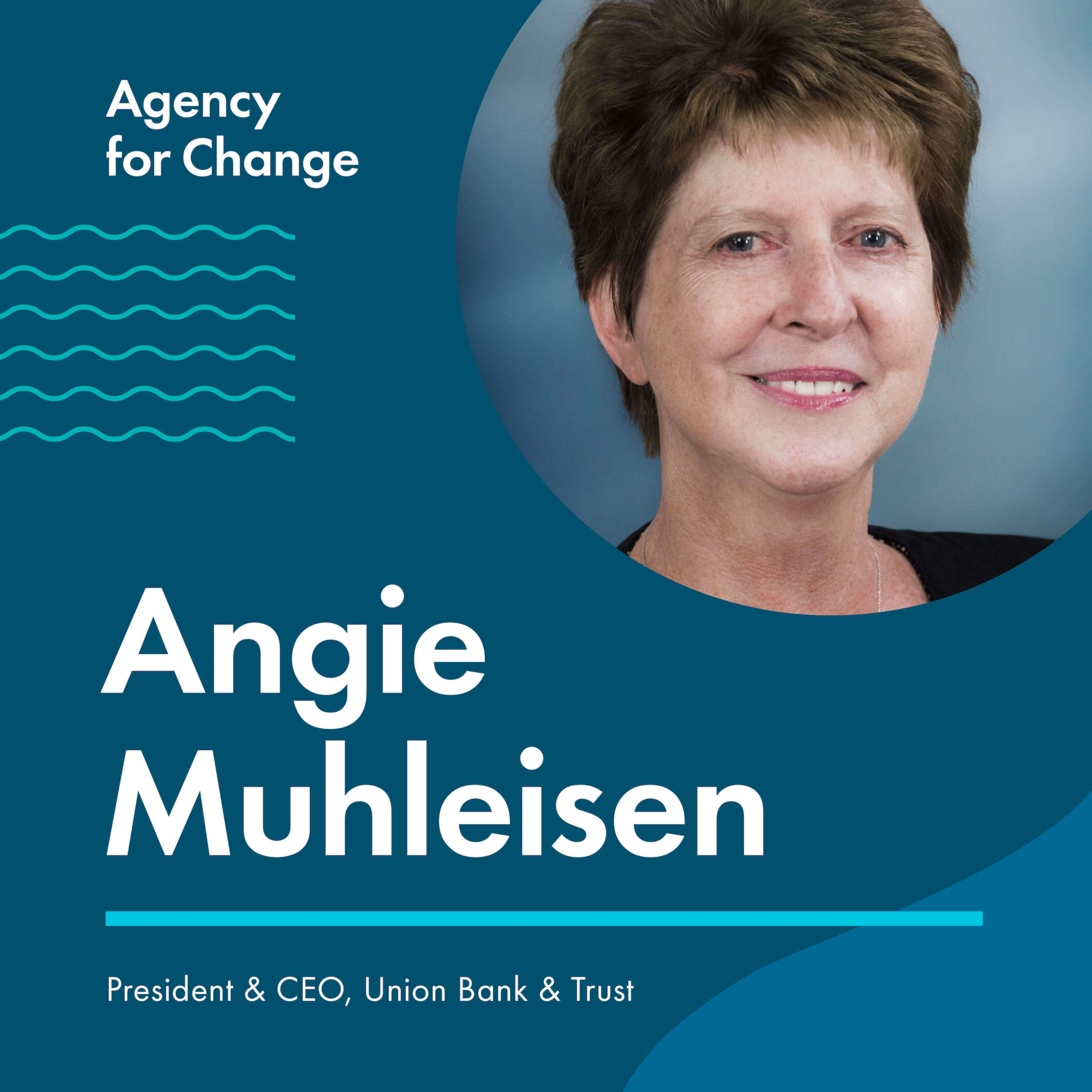 "I truly believe the reason we're successful is we care about each other, we care about our customers, and we care about the community," said Muhlheisen. "It's really our secret recipe for success."
The full Agency for Change podcast episode with Muhleisen can be found at https://kidglov.com/podcast/angie-muhleisen/ or on any major podcast platform.  
Learn more about the services of Union Bank & Trust at https://www.ubt.com/. 
The Agency for Change podcast from KidGlov marketing and advertising agency brings stories of people creating positive change in the world. From large companies and nonprofit organizations to small advocacy groups and solo agents for change, the program explores what inspires these changemakers, the work they're doing, and how they share their message.
"We began this podcast to share those stories that inspire the work we do at KidGlov," said Wineman. "It's been incredible to welcome inspirational guests and share their great works and the impact they have in the community." 
The advertising agency's podcast releases new episodes every week. Listen at kidglov.com/agencyforchange or on any major podcast platform.
KidGlov is a Certified B Corporation that offers a full array of marketing and branding services from strategic planning and traditional marketing to the latest in digital and social media. This highly experienced team has worked across industries and is quickly becoming a resource for local non-profits whose missions align with their own. KidGlov has won several accolades including top honors at the American Marketing Association awards in Lincoln and Omaha. They've also been acknowledged at the American Advertising Federation Nebraska Awards and have been named one of the Best Places to Work. Learn more about the advertising agency at KidGlov.com, or visit their Omaha office at 105 South Washington Street, Papillion, Nebraska 68046.
Media Contact

Company Name
KidGlov
Contact Name
Lyn Wineman
Phone
4024839922
Address
105 South Washington St, Ste B
City
Papillion
State
Nebraska
Postal Code
68046
Country
United States
Website
https://kidglov.com/locations/omaha/