San Antonio, TX – Kathryn Snapka, the founding attorney at The Snapka Law Firm, Injury Lawyers, is board certified by the Texas Board of Legal Specialization and the National Board of Trial Advocates to practice personal injury and civil trial law in Texas. Since she started practicing, she has served as the lead counsel in landmark cases that have resulted in substantial recoveries. She's a top-rated medical lawyer who also handles complex personal injury, commercial, and pharmaceutical litigation. She's a nationally recognized speaker on trial advocacy and product liability issues, aiming to educate individuals on these complex litigation matters.
On October 30, 2021, the Texas Chapter of The American Board of Trial Advocates (TEX-ABOTA) honored Kathryn Snapka with their 2021 "Trial Lawyer of the Year" award for being an excellent advocate of the 7th Amendment and having a distinguished career. She was also awarded for building a reputation in Texas for high ethics, recent outstanding jury trial results, and fair play, exemplifying the ideals of ABOTA.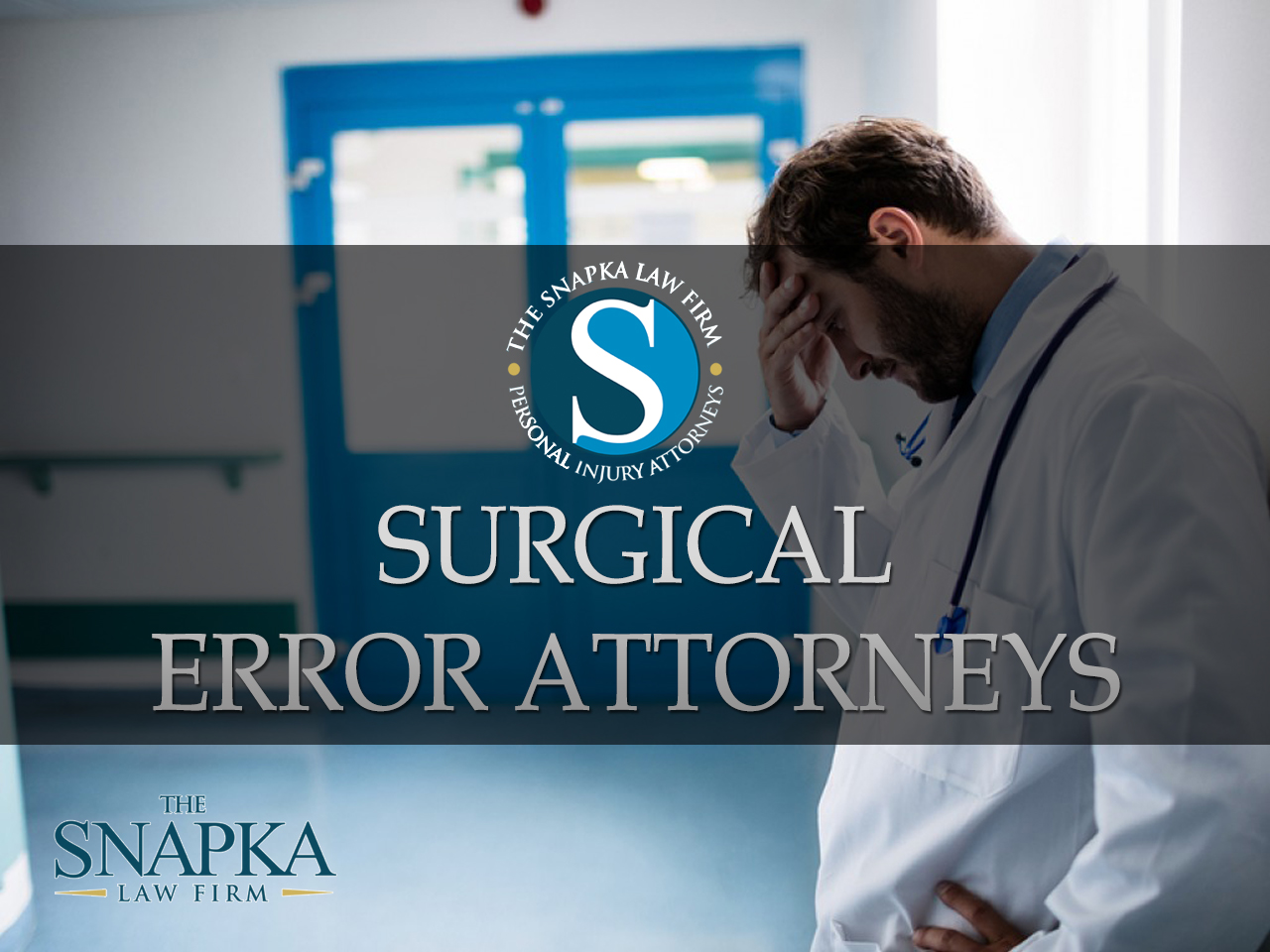 Surrounded by family, she accepted her award and said;
"This is absolutely the highest honor I have received in my 41 years of practicing law, and, without a doubt, one of the finest organizations to which I have belonged"- Kathryn Snapka
The American Board of Trial Advocates (ABOTA) comprises experienced trial lawyers and judges dedicated to preserving and promoting civil jury trial rights provided by the 7th Amendment to the US constitution. 
Before serving as a briefing attorney for the Court of Civil Appeals for the Sixth Supreme Judicial District in Texarkana, Kathryn Snapka graduated from Baylor Law School and received her B.B.A from Texas A&M University. Currently, she's licensed to practice before the U.S Court of Appeals, Western District of Oklahoma, Fifth Circuit, U.S District Court, Supreme Court of the United States as well as Northern, Southern, Eastern, and Western Districts of Texas.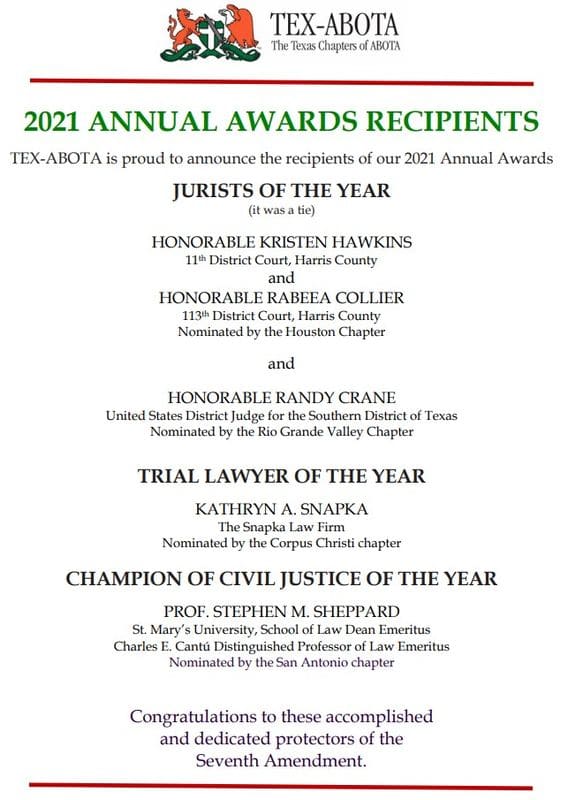 Kathryn Snapka leads a team of attorneys and staff at The Snapka Law Firm, Injury Lawyers, passionate about helping clients navigate Texas medical malpractice lawsuits. They break down the rules/requirements of most medical insurance companies, advocate for the rights of victims in/out of court, find proof that medical negligence occurred, and conduct extensive research to build a case. 
The Snapka Law Firm, Injury Lawyers, pursues doctors, nurses, hospitals, healthcare providers, and institutions responsible for surgical errors, birth injuries, defective medical devices/products, misdiagnoses, environmental events, brain injuries, patient falls, care management mistakes, failure to diagnose, and hospital negligent care. Whether a client is suffering due to medication errors, nursing home abuse, or delayed surgery, they can pursue damages at the San Antonio personal injury firm. 
Kathryn Snapka has 3decades of experience handling medical malpractice lawsuits, making her one of the most seasoned personal injury lawyers in San Antonio. To schedule an appointment with her, call 210-361-6885 or visit the law firm's website. The Snapka Law Firm, Injury Lawyers, is located at 310 S St Mary's St Suite 1225, San Antonio, TX, 78205, US. 
Media Contact
Company Name
The Snapka Law Firm, Injury Lawyers
Contact Name
Kathryn Snapka
Phone
210-361-6885
Address
310 S St Mary's St Suite 1225
City
San Antonio
State
TX
Postal Code
78205
Country
United States
Website
https://www.snapkalaw.com/texas-medical-malpractice-lawyers/san-antonio/