SAN FRANCISCO, CA  (Oct. 26, 2021) The IIDA Northern California Chapter, the professional association for the region's commercial interior designers, will present its annual event: Pioneers in Design on Thursday, October 28, from 5:30-7:30 PM (PST).  This virtual event is produced by We & Goliath and will feature table-based networking before & after the keynote. Tickets for this virtual event may be purchased at: IIDANC.ORG/EVENTS/PioneersinDesign2021
The 2021 Honoree, Liz Ogbu, will share on the topic of "Design/ing in the Apocalypse." Apocalypse comes from the ancient Greek word meaning "revelation" or "unveiling."  The past two years have hammered home the endemic nature of the conditions we face, the unprocessed grief we individually and collectively hold, and the need to focus on repair and healing, rather than a "return to normal". As designers who shape the physical environment we all live in, we need to examine the ways we have been complicit in the harm of our communities. Designer Liz Ogbu will lead us in the exploration of what it means to negotiate issues of race and space in service of the repair and healing of communities.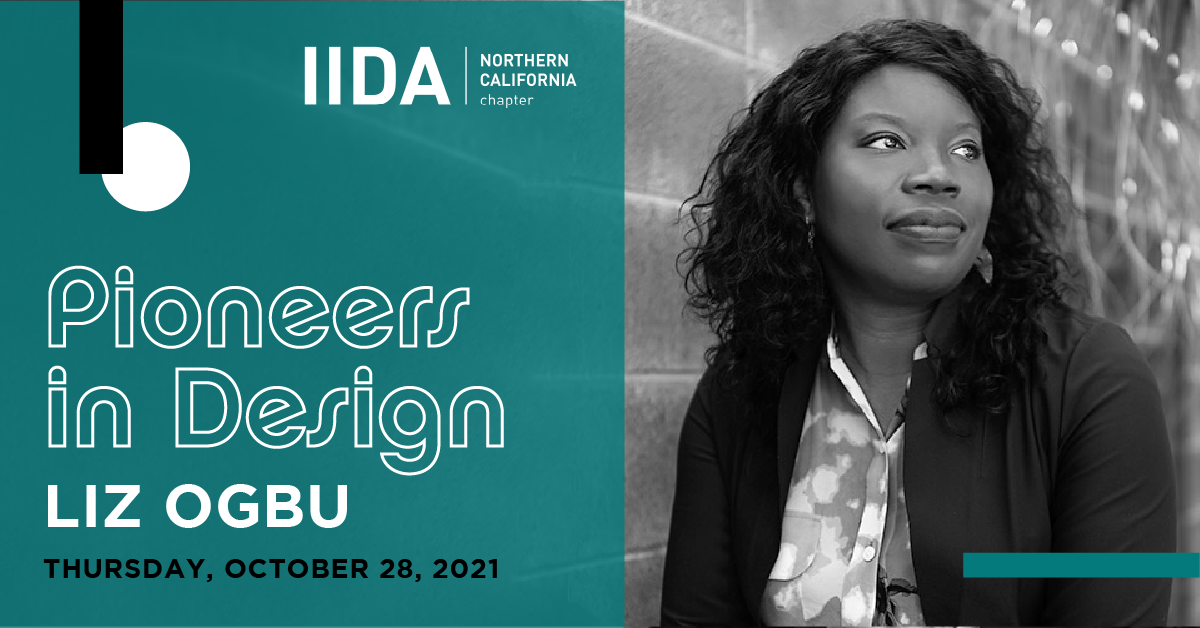 Liz Ogbu is a designer who likes to ask pointed questions about tough problems, and then find solutions. She is the founder and Principal of Studio O, a multidisciplinary design consultancy that works at the intersection of racial and spatial justice. Ms. Ogbu has held academic appointments at UC Berkeley and the Stanford D-School. She earned architecture degrees from Wellesley College and Harvard University. In addition to being honored as a Senior Fellow of the Design Futures Council, she is an Aspen Ideas Scholar, an IDEO.org Global Fellow, and was named one of Public Interest Design's Top 100.
About IIDA Northern California:
International Interior Design Association (IIDA) of Northern California is a not-for-profit philanthropic organization that represents more than 900 commercial interior designers from Silicon Valley to Sacramento, North of San Francisco to Fresno. 
The mission of the IIDA Northern California Chapter is to advance Commercial Interior Design as a profession. They advocate for healthy, sustainable, and equitable spaces by connecting, educating, and inspiring our community. This Chapter consists of six vibrant, locally focused City Centers which host a variety of programs & events throughout the year.
Like that of its national organization, IIDA  Northern California Chapter's pursuit is to support and promote the profession through education, sharing knowledge and best practices, advocacy and research. The work of commercial interior designers touches the health, safety, and well-being of millions of people every day. For more information, please visit iidanc.org. 
Press Release File(s):
Uploaded visuals:
https://s3.amazonaws.com/pf-upload-01/u-1890/0/2021-10-18/yg03rkk/IIDANC_PID_2021_Social%20Media_d3.png
Link to visuals:
https://iidanc.org/wp-content/uploads/2021/10/IIDANC_PID_2021_Social-Media_d3.png
Media Contact

Company Name
IIDA Northern California
Contact Name
Veronica Vaskinn, Chapter Administrator, IIDA Northern California
Phone
(408) 480-6910
Website
https://iidanc.org/