Portland, OR – Classic Exhibits, Portland's premier designer and manufacturer of trade show exhibits, has some exciting news to share with customers, both new and old: trade shows are back, and 2022 is expected to be a monumental year for the industry!
"Last fall proved that companies are eager to return to trade shows," said Mel White, VP of Marketing and Business Development. "The orders were all across the board along with the design trends. Some exhibitors chose to go big, others, small. And there was an even split between purchasing a new booth or renting a display. We're seeing the same brisk activity headed into 2022 on portable, modular, and custom exhibits."

Although the COVID-19 pandemic forced many trade shows to grind to a sudden halt, 2021 brought many exciting innovations and advancements to the trade show industry. According to experts at Classic Exhibits, some of the most notable post-COVID trade show design trends include Interactive & Virtual Displays. These displays have become popular as many trade show organizers are pivoting into virtual shows as an alternative to live shows during the COVID-19 pandemic. The technology developed for virtual events is now being applied to create highly interactive displays for live events as well.  
Another notable post-COVID trade show design trend is Sustainable & Eco-Friendly Displays. Sustainability is now at the forefront of trade show design and manufacturing. As the Classic Exhibit team explains, "the sky's the limit for our Eco-Systems Sustainable Displays. All of our eSmart products are designed and constructed with the most environmentally-friendly materials available." The advent of bigger, brighter, and bolder displays with lightboxes has also become commonplace in the events industry. Classic Exhibits caters to this need also as the vast majority of their island and inline rental orders (nearly 80%!) now feature eye-catching lightboxes. Classic Exhibits and trade show industry leaders predict more big things to come in 2022, including the resurgence of many in-person trade show events.
"With ongoing current supply chain interruptions and delays, it's important to think ahead and start working on your trade show displays as soon as possible if you plan to participate in these events! You can learn much more about emerging trade show exhibit design trends and display options on the Classic Exhibits website below: https://www.classicexhibits.com"
About Classic Exhibits:
Classic Exhibits emerged as a designer and manufacturer of trade show displays in 1993 and is now an industry leader in Portland, Oregon, and beyond. Over the years, they have evolved to offer a wide range of trade show solutions, including hybrid and modular exhibits, portable displays, custom exhibits, and exhibit rentals of the highest quality. If you can dream it, the Classic Exhibits team can bring it to life!
"We are a flexible manufacturer willing to do what others can't or won't even try," says Classic Exhibits.
Media Contact:
Mel White
VP of Marketing / Business Development
Mel@classicexhibits.com
(503) 652-2100 x-219
866-652-2100
Media Contact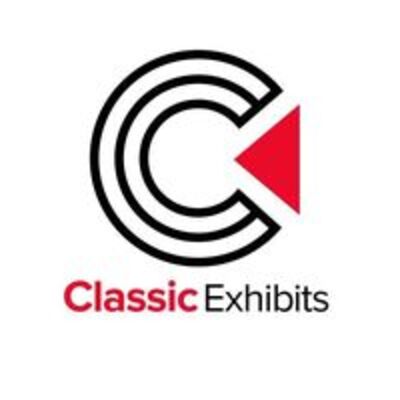 Company Name
Classic Exhibits
Contact Name
Mel White
Phone
(503) 652-2100
Address
5675 SE International Way
City
Portland
State
Oregon
Postal Code
97222
Country
United States
Website
https://classicexhibits.com/