About the Traverse City Full-Service Law Firm
Alward Fisher is a full-service law firm dedicated to providing top-notch legal representation to Traverse City and Northern Michigan. The dynamic team of ten attorneys has over 100 years of combined legal experience. Along with caring support staff, the firm provides clients with the professional legal representation they deserve, along with the personalized, compassionate approach they need during challenging times in their lives.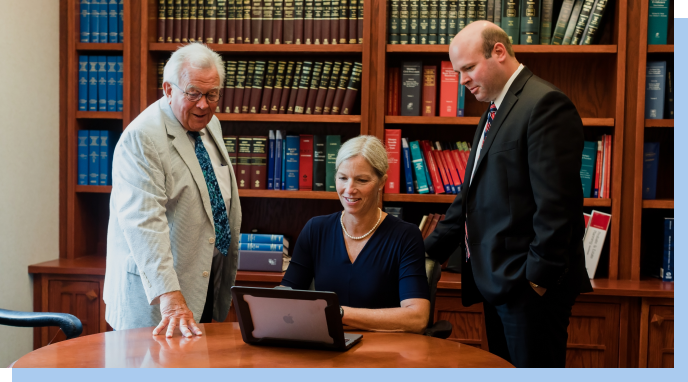 The Michigan full-service law attorneys have the experience and resources necessary to provide qualified legal counsel for those dealing with delicate legal matters. They understand the challenges their clients face, and they're here to listen to them and help them with sympathetic but realistic solutions.
Cases They Handle
The Traverse City full-service law lawyers of Alward Fisher have extensive experience handling a wide variety of matters, including the following:
Banking – They have decades of experience helping their clients handle challenging banking matters, such as bankruptcy, debt collection, and loan relationships.
Business & corporate – Their corporate lawyers help businesses grow with company formation, mergers and acquisitions, personal liability, and more.
Civil litigation – They help plaintiffs and defendants pursue civil litigation for various matters.
Criminal law – Alward Fisher provides criminal defense for various crimes, including DWIs, assault and battery, and white-collar crimes.
Family law – Their family law attorneys find solutions to family matters, such as divorce, child custody, and alimony.
Divorce lawyer – They provide compassionate guidance through this delicate time.
Prenuptial agreements – Before entering a marriage, Alward Fisher gives couples peace of mind with prenuptial agreement help.
Alimony – They help spouses on both sides of alimony disputes come to reasonable solutions.
Child custody – Their Michigan family law attorneys work to find the best agreement for the child's needs.
Child support – Alward Fisher fights for the parent's rights and the child's best interest in child support cases.
Adoption – When growing a family through adoption, their Traverse City family law attorneys are there through every step.
Estate planning – They ensure estates are taken care of even after death.
Real estate – Whether buying or selling real estate, their experienced legal team provides legal assistance in the most complicated cases.
Unbundled legal services – They're also available with more limited-scope legal services, such as helping with more technical questions when a lawyer isn't needed for the whole case.
What Their Clients Say
They are honored to have received many positive testimonials from past and current clients about their work. Their clients note their attorneys' "knowledgeable" and "professional" qualities, as well as their personal approach. One client noted that working with their firm is "very much like having a friend in your corner." 
Their clients also remark that they provide responsive communication about the status of their cases. Many testimonials talk about how their legal team is "always working hard" on their clients' behalf, "providing endless hours of attention." 
Many clients have expressed their satisfaction with the results Alward Fisher has obtained for them, commenting how the firm helps "navigate the challenges to a fair outcome."
Contact Alward Fisher Today for a Free Consultation
No one should navigate this difficult and personal time by themself. Those looking for a Michigan full-service law firm should visit the new website and contact Alward Fisher by phone, contact form, or live chat for a free and confidential consultation.
Media Contact

Company Name
Alward Fisher
Contact Name
Thomas Alward
Phone
(231) 346-5400
Address
202 E. State Street
City
Traverse City
State
MI
Postal Code
49684
Country
United States
Website
https://nmichlaw.com/