AAA Reick's Waterproofing Services, Minneapolis, Minnesota
Minneapolis, Minnesota – AAA Reick's Waterproofing has been providing basement waterproofing, landscape design, and patio/hardscaping to the Minneapolis Metro area for over 30 years. They solve Lawn Drainage issues that create wet, leaky basements. With more than 30 years of effectively keeping basements dry by working at the "ROOT" of water problems, the inexpensive landscaper has gained the trust of area homeowners. They also have an A+ rating and are proud B.B.B. members.
AAA Reick's Landscaping and Waterproofing employs various techniques to prevent water from accumulating on their clients' properties and leaking into their residences. Excavation and application of a waterproofing sheet membrane to the outside foundation, re-designing their entire foundation for drainage, grading, installing or replacing window wells, installing French drains and drainage tiles, and installing gutter extenders that connect solid underground drain tile and a pop-up outlet are just a few of the methods.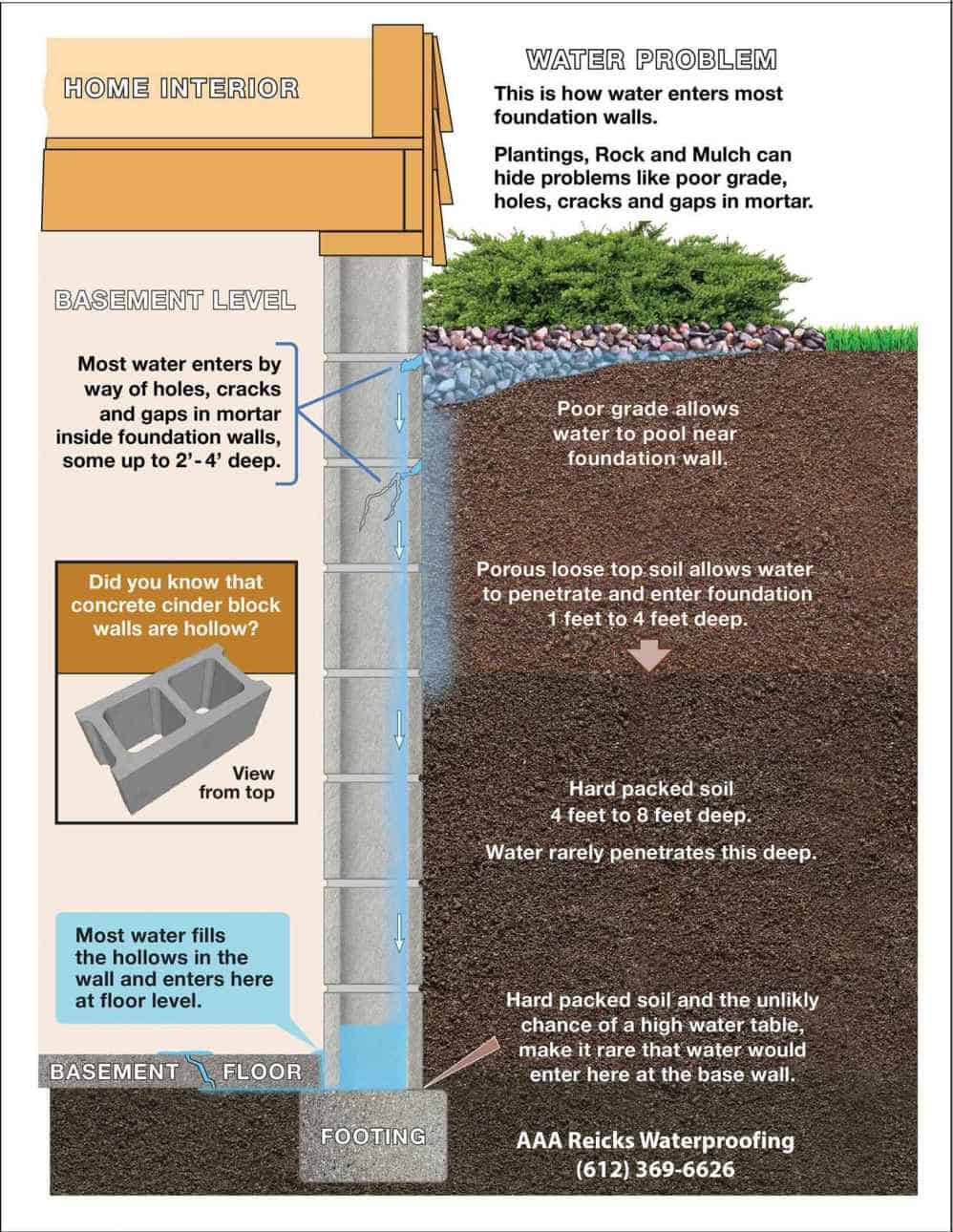 Given Minnesota's climate, it's comforting to know that people can rely on professionals with years of experience with practically any type of drainage situation a client's property may require. AAA Reick's Waterproofing comes with enough construction and business certifications. The crew has tried and tested ways for dealing with floods in yards and Basement Waterproofing. They're also certified landscape installers that can make any area look better than it was before.
For a dry basement, AAA Reick's Waterproofing uses established external waterproofing techniques. They begin their job on the outside of the house, at the source of the water problem, to provide clients with a safe, dry basement. Excavation and sealing the gaps, cracks, and holes in the client's foundation wall that allow water into their basement is one of the most critical aspects of their job. The professionals will excavate the problem areas before using high-quality hydraulic cement or fast-setting mortar to replace the cracks, gaps, and holes. After that, a layer of thick polymer sheet membrane is applied, followed by a specific primer. The ground is subsequently compacted, and the work area is filled in.
Moreover, Foundation Grading and Regrade is one of the most effective techniques to move water away from a client's foundation walls and into an area where it may safely percolate into the ground rather than into the basement. AAA Reick's Waterproofing contractors can remove any landscape material in the area and properly replace or reinstall it at the client's request. To complete their work, they may need to work around paved areas or remove pavement as needed.
Contact AAA Reick's Waterproofing Minneapolis, Minnesota
To learn more about AAA Reick's Waterproofing, contact them via phone at (612) 369-6626. For more information, visit their website.
Media Contact

Company Name
AAA Reick's Waterproofing
Contact Name
Tony Reick
Phone
(612) 369-6626
Address
4315 Chowen Ave S
City
Minneapolis
State
MN
Country
United States
Website
https://www.aaareicks.com/